CNC pantograph – 3/4 interpolated axes
IT IS PERFECT FOR:
ALUMINUM, WOOD, PLEXIGLASS, FOREX, DIBOND, MARBLE AND STONES

It is a high performance and precision pantograph, A synthetic version of the most powerful twin EXTREMA Q10. EXTREMA 1000 is a 3-4-interpolated AXIS CNC , WITH AN high-quality electronic components and managed by professional STEP/DIR cards with fast, circular and linear interpolation. The machine can be REMOTELY CONTROLLED for any updates. The electronic box is equipped with A ventilation system, double SEPARATE power supply, electronics'S AUTOMATIC protection system and tool probe preparation. the engine electronics precisely manages the handling of the axles that can be controlled each one by a single driver.
PROCESSED MATERIALS
CLOTH, LEATHER, LEATHER, CARDBOARD, RUBBER, POLYSTYRENE, CARPET FOR DOORMATS, SPONGES.
AXIS STROKE "Z"
The stroke of the "Z" axis reaches up to 210 mm and the bridge passage is 180 mm. In this way it is possible to work very high pieces (up to 180 mm). with the UP/DOWN device you will be able to mount very long tools in order to processing throughout the height.
NEW CUSTOMIZED WORK PLAN
The work top is made of reinforced grooved aluminum, 20 mm of thickness , customized by A.M.MA. the footprint's are is 720×1220 mm. The particular canal processing makes the fixing operations easier with clamps and screws.
Available workspace: 600x1000x180 (up to 210 mm)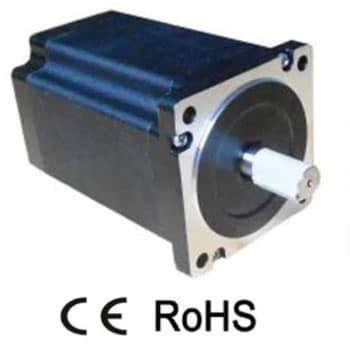 STEPPER ENGINES
Excellent quality controller, the NEMA 34 step-by-step TRIFASE motors (closed ring in the DELUXE version) manage the movements of the axles up to 15 meters per minute, flowing strictly on guides and roller skates of high precision shperes.
BALL RECIRCULATION MECHANICS
Ball recirculation mechanics on all axes. IT is a prerogative on our machines in order to give more precision, speed in movements and maximum durability in time. Guides, skates, snails and strictly quality screws.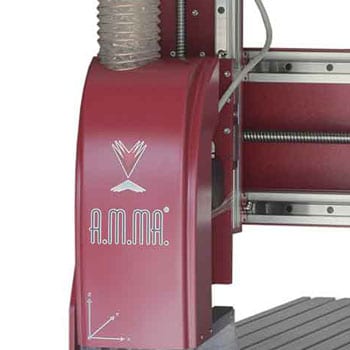 PROTECTIVE CASINGS AND DUST COLLECTOR
The protective crankcase allows you to keep the operator safe from any chip bounces. In addition, it allows you to connect any vacuum cleaner to keep clear and clean the area around the tool.
ELECTROSPINDLE
The electrospindle is the muscle of the machine. A.M.M.A pantographs will install, according to the customer's needs and the materials used, its best configuration. Its power is related to the type of material. It is possible to install professional electrospindles even with a very high RPM number. On MARBLE and ALUMINUM, It is recommended a thrust version. You can also add different tools for various processes. Our electrospindles are MADE IN ITALY with guaranteed assistance all over the world. They are managed by the control software installed on the machine, both for RPM number and for the drive.
WHY BUY!
1) NEW workplan X=600 Y=1000 Z=210
2) X-y axes made of carbon steel, the z axis is longer and stronger
3) Guides and double skates with spheres recirculation
4) High quality NEMA 34 TRIFASE stepper motors
5) Separate electronics for each engine, made in Italy
6) Professional electrospindle
7) PC included
8) CAD course directly at the customer's home
9) At the most affordable price
THERE ARE SEVERAL MATERIALS
There are many materials that can be worked with our Extrema 1000, TRIFASE step motors guarantee silent movements , a great power on the axes and high speeds, giving the operator the opportunity to work even on steel and marble.
TECH SPECS
• USEFUL MACHINING PLAN: 600X1000X180 (up to 210 mm)
• MACHINE MATERIALS: STEEL STRUCTURE, REINFORCED ALUMINUM TOP, CARBON STEEL X-AXIS BEAM
• AXIS HANDLING: COMPLETELY BALL RECIRCULATION (The speed of the axes can be varied according to its use and according to the screws)
• AXES: 3/4 INTERPOLATED AXES, The "X" axis beam reinforced with thickened aluminum beams allowing total vibration abatement and greater resistance to twisting. The stroke of the "Z" axis is about 210 mm with a bridge passage of up to 180 mm.
• ELECTROMANDRINI: PROFESSIONAL (up to 3 kw) UP/DOWN system to perform machining on blocks 180 mm high with tools up to 100 mm long!
• AXLE PROTECTION: DUST BELLOWS (optional)
• PAINTING: THE PAINTING SYSTEM GUARANTEES RESISTANCE TO CORROSION TO WEAR AND ULTRAVIOLET LIGHT
• SOFTWARE: INTUITIVE SOFTWARE IMPORT VECTOR FILES AI, DXF, EPS, POSSIBILITY TO IMPORT THREE-DIMENSIONAL STL AND 3DM FILES
• WORKABLE MATERIALS: WOOD, PLEXIGLASS, FOREX, DIBOND, CORIAN, ALUMINUM, BRASS, BRONZE, MARBLE AND STONES

Our machines are painted with two-component polyurethane paint, that guarantees an excellent wear resistance and therefore a longer life service.
– Intake manifold
– Preparation of the tool probe
– Screws, snails, guides and ball recirculation skates
– TRIFASE step-by-step motors
– Reinforced top in aluminium
– Depressor and suction cups for quick fixture of the pieces
– "zero tool" setting probe
– Decanting tank and water pump for cooling spindle and tools (useful  on marble or aluminum)
– Aspirated plane over the entire workspace
– 4th interpolated axis
– Laser for engraving on wood